How to export Workspaces to SmartTrader
Last Updated:
July 12, 2019
In order to export your workspace from UCS to 360Pro Charts, you need to follow these steps:
After signing in to UCS, go to Workspaces tab of the toolbar and click on Export Workspaces
Following this, you will be asked to use your email address and password to login.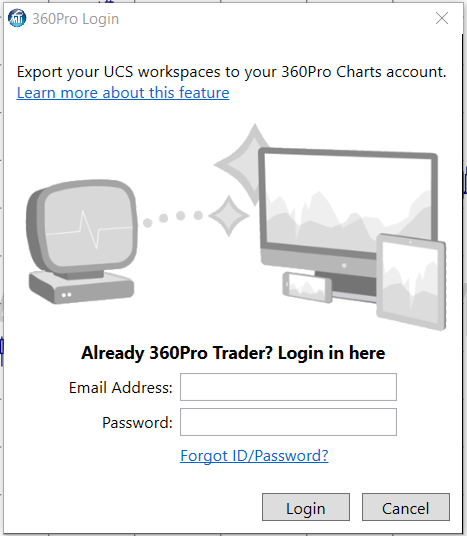 If you forgot your password, you can click on Forgot ID/Password? Link and find out how you can reset your password.
After specifying email/password, a pop-up window, containing a list of your UCS opened workspaces, will appear. To select a workspace you wish to export, simply left-click on it in UCS opened workspaces column.
If you have multiple workspaces, you can use Search field above the column. After all target workspaces are selected, click on > button to export them to 360Pro Charts. All exported workspaces will be displayed in Exported Workspaces column.
Then, you need to log in to 360Pro Charts, click on + button and select Manage Workspaces.
Go to Imported tab, mark all workspaces you want to import and press Import button. The selected workspaces will be added to 360Pro Charts.
Congrats! Your workspace has been successfully imported from UCS to 360Pro Charts.